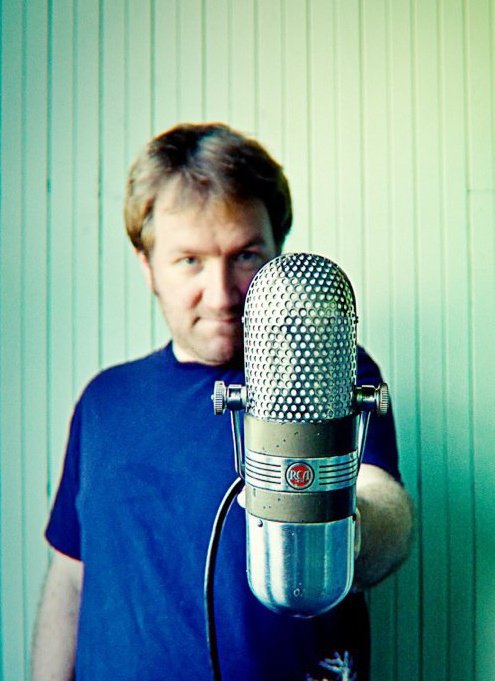 Sean McLaughlin loves recording and mixing songs more than anybody loves anything. After working in Los Angeles for the early part of the 2000's with some notable producers (Andy Johns, Jimbo Barton, Carmen Rizzo) and artists (Rush, Elliott Smith, Marilyn Manson, Death Row Records) Sean returned to Boston in 2004 to open his own studio, 37' Productions. Since opening his studio Sean has been working on projects both regionally and nationally. Some of the artists with whom he has plied his trade are Matchbox Twenty, Queensryche, Dirty Vegas, Sarah Blacker, Kristen Merlin, Rafael Moreira and Dark New Day, as well as ABC, NBC, CBS, Fox, MTV and ESPN. Sean was named Producer of the Year by the New England Music Awards in 2013 and 2018, becoming the first to achieve that honor twice. In 2014 he authored Mixing with iZotope, a comprehensive mixing guide for beginner to intermediate mixers. Currently, Sean is a professor in the Music Production & Engineering Department at Berklee College of Music and mixes over 200 songs a year.
News & Updates
Nondescript Fall 2018 Entry
An eventful summer has led to a mix heavy fall. To date:
New releases by SixFoxWhiskey, Daisybones and Los Goutos this fall! There are playlists and links right here on my sight. Give a listen! This week Katie Dobbins released the next single from her record "Jeep Song", which is indicative of how beautiful her record's going to be. Also, I recently did a single for a remarkable young woman named Sofia Lee Davis called "I Don't Start Fights" that is pure fire. Seriously. Next week, Nashville artist Taylor Hogan releases her debut EP, "Wonderland". This is a really special collection of songs that I can't wait to get out to the world.
Upcoming, the new records for Dressed for the Occasion, Bull Pup, Set Fire and the aforementioned Katie Dobbins. Starting after the holidays, Roll Over White and Amy Mantis, as well as preproduction starting for Ashley Dawn's newest release and, last but certainly not least, a new Lady Pills record! Until next time!
Get Along Little Doggy
Here we are in the dog days of summer and the new AC kicking in on silent mode. Some great things have been happening:
The first full length Annie Brobst record was released earlier this month and I couldn't be more proud of this amazing woman and what she has accomplished, as people in Colorado, Montana, et al have just witnessed. She will be heard from for years to come.
Mixing has been completed for SixFoxWhiskey, Lady Pills and Taylor Hogan, who will have records out in late summer/early fall, and mixing continues for Daisybones, Set Fire and Los Goutos. Tracking this summer will be Katie Dobbins, Dressed for the Occasion and Bull Pup. Shaping up to be a busy one!
See you all in the fall, which is already booked through October!
Early 2018!
This year has started off like gangbusters! To recap:
Molly Brule released her first full length album "The Things I Know" to much critical acclaim. Find it wherever you listen to great music!
Samantha Farrell came in to do a duet with Dennis Brennan entitled "Lost Without Your Love", accompanied by Duke Levine. This is an amazingly heartbreaking song. Samantha will be releasing it soon for all to hear.
Annie Brobst just released her new single, "I Love You More", which was co-produced with Anthony J. Resta. He and Kiryadi Sutedja brought this track to another level, and I'm so proud and honored to work with everyone involved.
More to come from Annie next month, as well as SixFoxWhiskey, Gracie Day, and Percy Hill. Until then, enjoy life!
Summer of Our Major Content
So many great things happened since this summer! To recap:
Honeysuckle released their latest full length, which I had the honor of mixing. This is such a beautiful, amazing record and one of my favorites I've ever worked on. This past week they have been the featured artist on Spotify's Fresh Folk and things are looking bright for these fine folks going forward!
Vary Lumar recorded for their upcoming eighth release(!). A mix is shortly on it's way.
Jake Hill and Deep Creek recorded 13 songs in two days! An incredible band that made an incredible record that I can't wait for the world to hear!
Ashley Dawn released her latest EP. My first record with her and definitely not my last. She's a powerhouse!
All this while opening a new room at the studio! More to come after a very busy fall!
New Space, Same Excitement!
And off we go! New room is up and running and sessions are happening and sounding oh so lovely!
Wrapping up mixing for OldJack this week. All was tracked at Dan Nicklin's new studio with vocals produced by Will Dailey.
Mixing is well underway for the new Honeysuckle record. I'm beyond excited to be working on this. The songs and performances are all spectacular and everyone is thrilled with what's to come!
Jake Hill and Deep Creek just wrapped up tracking for what will be their best collection to date. Keep and ear out!
Ashley Dawn, Petrina Foley and Molly Brule are thisclose to having finished their latest releases. These three are among my favorites and I'm really looking forward to these records being out in the world!
The new Eddie Japan record, "Golden Age", has been released and the reviews are stellar thus far. Much props to Benny Grotto's mixing chops on this one!
More to come very shortly, including a couple of favorites returning and helping to christen the new digs. Keep an ear open!
First post!
I'm currently adding a new control room at the 37' Productions studio that has been designed by Lou Clark of Sonic-Space and Rob Pemberton of Audire Design; the new space is going to allow for more options for live recording and more opportunities to run multiple sessions at once. The new room should be ready in April, so be on the lookout for a May Opening Celebration!
During the construction I have been mixing records for Rachel Rynick, Mally Smith and Chelsey Carter. This is Rachel's second record and its an extremely emotional and personal one, she's made amazing strides in her songwriting and her confidence level has allowed her to deliver performances that are her best on record to date.
Mally is doing 3 EP's - one studio, one basement and one live concert performance, bringing in 5 songs for each. I'm working on the studio one obvi. I've known how great Mally is through her performances singing with Ruby Rose Fox and I've found her to be an extremely remarkable musician and person. She plans to spend a month in England and Ireland this summer and these records are - in a way - her send off. Mally always speaks of music and art making a connection to people and I think this collection of music is going to do just that.
This is Chelsey Carter's first EP! The 24 year-old country singer is an amazing solo performer who writes extremely catchy songs and her strength as a performer shines through in these recordings. There are some amazing musicians performing on this record as well. I'm looking forward to getting this in people's ears.